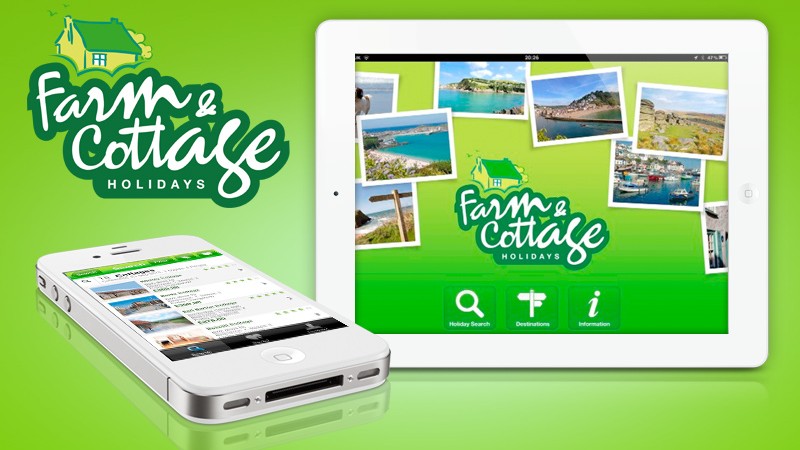 App Stores most popular cottage finder app just got bigger and now lets your finger do the searching!
The Brief
Farm and Cottage Holidays found us after a Google search for iPhone app development, it was clear on initial meeting that they wanted a high-quality app that fits in entirely with their brand and would position them well in the ever-growing app market. The brief was to replicate as much of the functionality of their website as possible and take full advantage of intuitive interfaces that the Apple devices offer.
Approach
It was clear to us that the visual appeal of the iPhone App was as important as the functionality, so one of the first jobs we set about doing was providing visual representations of all of the main screens so Farm and Cottage Holidays could get a real feel for how the app would display the information provided. We then liaised with their data providers and set about converting their website data into usable formats for the iPhone development. As soon as we had a working prototype we then presented this to farm cottages and continue to work around the feedback gained. After extensive testing and approval from Farm and Cottage Holidays, this was then submitted to Apple for approval. it went through their approval process in a very short space of time and we're particularly proud of the fact that they went through first time with no modifications required at all, which is not always the case when App's rely on external data.
The Result
The App was launched on Apple's App Store to instant five-star reviews and has continued to gain good feedback since its launch. The feedback from farm cottages has been extremely positive and they were particularly pleased with the fact that the App started taking bookings within a few days of launch and long before any form of promotion was started, simply by the viral aspect of the App Store.
Update (August 2012)
In less than 12 months after the iPhone Farm & Cottages app version was released, Createanet were commissioned to make this an iPad app as well. this makes full use of the larger screen and includes a great new feature that allows you to draw a circle on a map and the system will search by that location.