Convenient ordering for your customers
Provide your customers easy access to menus, special offers and a simple way to order directly from you
Our system offers a completely contactless way of customers ordering directly from the table, paying online with the order automatically printed in your kitchen.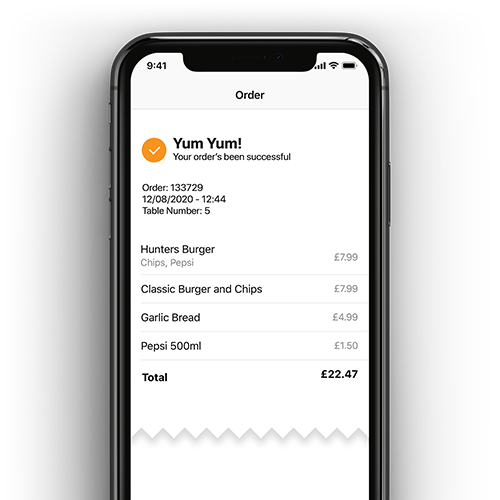 Why Use Our System
Low commission
for the first £1500 worth of orders per month, then all commission is capped giving you commission free sales
Instant payment


As soon as the customer pays for their food, you get paid instantily

Easy To use Admin Area
providing easy access to update your prices and menu items
Simple order processing
either by desktop/tablet or our custom printer, which gives you complete control at the touch of a button.
All this backed by a company with over 22 years experience in the industry 
How it works
We take care of all of the technical side of the solution, publishing to the relevant App Store is for you, all you have to do is maintain and manage your menus and process the orders.
You get the ability to accept or decline the order, once accepted payment is instantly paid into your account, no delays no large commission invoices
You also get the ability to publish special offers and send across notification directly to customers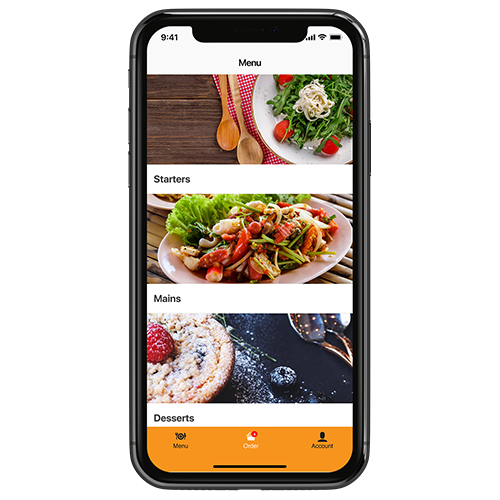 Table orders
The ability for your customers to order and pay directly from their phone

Menu selection
An intuitive interface allowing your customers to browse your menu and build their order

Secure and instant payment
Instant payment directly into your account, no delays, no commission invoices

Instant notification/printing
Depending on your preferred method the system will automatically print your order ready for preparation.

Menu management
From a simple interface control all of your menus, specials with complete control over pricing and opening / collection times

Order history
From a secure web administration browse all of your order history
You are in Control
The system comes complete with intuitive web-based system that provides you complete control of your menus, pricing, opening times, and the ability to send direct marketing messages at the click of a button with no additional cost and no delay and most importantly no spam filters which would prevent your message ever getting delivered.
Every Business Needs a Little Push
Something most of the big businesses have already discovered is the push notification is probably one of the most important marketing tools available to businesses today. With our system, your customer not only gets the convenience of ordering from their phone and using our intuitive message platform you have the ability to send direct messages instantly and at no cost.
So next time you have that two-for-one offer or anything else you would like to promote, all of your customer's phones will burst into life at the push of a button
For more information, please complete the enquiry form below, and we will respond as soon as possible.
Phone:  0333 050 8238
Email:  apps@createanet.co.uk
Live Chat (see below if we are online)
24 Victoria Parade
Torquay
Devon
TQ1 2BD