For some reason, there seems to be a trend that everyone says you need a Facebook profile, Twitter account and to be sharing what you had for lunch on Instagram if you are in business. It's true they can be great tool for spreading the word about your business – but there is a very trusted piece of advise that most businesses take very seriously. Its that "you have to know your customer"; who they are, what they do, what they buy, what they spend on an average meal, the cars they drive, etc.
Some of this is of course over the top but in simple terms if you understand your customer you need to know what they might consider expensive, if they would buy your product and importantly in the context of this post, where you might find them.
So in relation to using social networking to target your clients the first thing you have to consider is will my client go looking for what I sell on Facebook, twitter, Instagram, etc? Of course this is very individual to each business.
Createanet, for example, does have twitter and Facebook accounts. We mainly use these for testing purposes and the occasional updates, but we recognise its unlikely our clients will go looking for our services on Facebook. Linkedin on the other hand we see as very important and we maintain a high profile on there. We make sure to invite all new and existing clients to connect, I even invite potential new clients to connect – so even if we don't get to get to do business with them at that stage by creating that connection they will be able to see what we are un to in the hope that we maybe of interest for their future projects.
One of my pet sayings is you can't be shy in business and you have to tell people what you are doing and social network sites are a great way of spreading the word. But choose your weapon of choice wisely.
Of course if you are building a fun app that has a broad appeal then something like Facebook can be all you need. In a recent app we built, we had 1000's of twitter followers before we had even finished the app which gave the app a huge boost when it went live.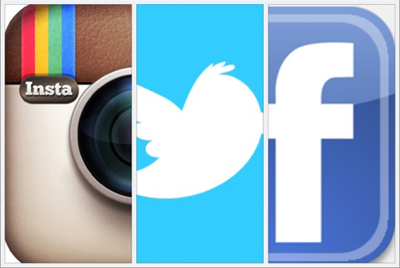 We also recently managed a Facebook adverting campaign for a Holiday Park, this worked really well and for a comparative very little spend, reached several thousand "likes" in just under 4 days. This now gives them a very cost effective platform to publicise their special offers, news about the camp and promotions.
But in both these cases, the very first question we considered was will we be able to find and target customers for these clients on Facebook, and in both cases the answer was yes.
In my opinion social networks have a lot of parallels to the physical world. If you were looking to sell designer clothes you wouldn't set up shop in an industrial unit in the middle of an industrial estate and likewise if you were selling roller shutter doors you wouldn't set yourself up in the middle of a chic shopping centre. This is simply because neither of these 2 business models would expect to find large volumes of their potential clients in those locations. Social networks are no different.
One final peace of advise is don't mix business with pleasure and make sure if you do promote you business via social networks, keep your private account exactly what it is, private. Calling the ref of a football match a fatherless child and describing a very drunken night out to all your mates might be funny, but if you have customers following you it does not exactly make you look very professional and can reflect badly on your business.
I had just that lately, where the MD of a company we were dealing with spent the day tweeting about all the cars they were driving on a test drive day and later that day, his company sent me a very poor piece of work.  My immediate reaction was "had he spent more time concentrating on he business than playing with cars it would have never have happened." However, if I had not been following him on twitter all day tweeting about cars he was driving i would have probably just put it down to an oversight.
In an age of over communication i think its important to remember, "Its not what you say its the message you send" and they can be 2 very different things
Social networks are very powerful but make sure they work for you and definitely not against you.