You would have thought it was Christmas Eve in the office the day of  the impending Keynote from Apple, there was genuine excitement, we are a strange bunch :-).  After months of speculation Tim Cook took to the stage and looking at the audience it was clear to see we weren't the only ones anticipating what they had to say.
Love or hate Apple if you are in business you have to admire the juggernaut that is their PR machine. If any of us had painted our office white no one would have noticed, Apple do it and pictures of it gets retweeted thousands of times, just brilliant.
The introduction of Apple Pay has a lot more implications than people realise. Without question it will become the new credit card as it provides a lot more security and convenience than the current payment systems. What this means for businesses is the smartphone becomes even more entrenched in our daily lives.
An overused phrase in our industry is "we live in a connected world"  but when you look at the latest advancements such as the Apple watch, you can now interact with your phone directly from your wrist without ever having to take it out of your pocket! We will be able to deliver special offers directly to your customers watch with no interaction from themselves and in reality, in a fairly non invasive way for the user.
This technology is not new, we've been sending push notifications to phones for a few years now but the reality is that phone is often buried in a handbag, suit or jacket pocket. By the time the customer sees that push notification they are probably on the way home and an opportunity has been missed.
Now the Apple watch will simply give out a subtle vibration and let the user know the something that might be of interest to them in their close vicinity . This of course also applies to more generalised notifications as all messages comes directly to the user's phone and in turn, now their watch.
In all of the presentations we do in most cases we present push notifications as the hidden weapon of all good quality business apps. It provides a completely free simple way of connecting with your customer that you can guarantee they will see. No spam filters, no overzealous ISP blocking emails. Just a simple direct way of communicating with your customers.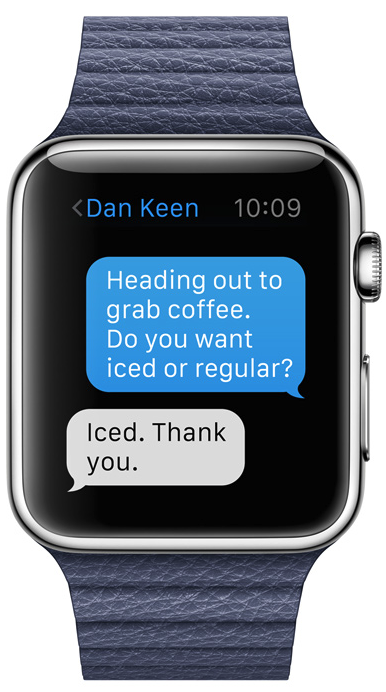 With the power to now send these directly to your customers wrist, the power of push notifications just became turbocharged.