One of the things I enjoy most about running createanet is that I get to meet a lot of really successful business people and come up with creative ways that technology can help with that continued success.
It's been an interesting journey starting 18 years ago, where genuinely one of the first appointments I went on with a new client they had got their fax machine ready so we could see the internet !!!.
I'm happy to say that the client went on to commission us to build a website and it subsequently  generated a considerable amount of business for them.
As we all know technology has come on leaps and bounds since then. For me, it's always been about what it can do for a business rather than the technology itself.
When I started createanet one of the new things buzzing around was the DVD business card, I remember thinking how cool this was. I could put multimedia presentations about my business on a business card and wow everyone. Well, we all know how that turned out…..they ended up wrecking the DVD drives in pretty much every machine they got played on. Not one of technologies greatest moments.

18 years on, we have a much more powerful version of all that  the DVD business card promised, but this time it really works, this version will always be in your clients pocket, can even send them a message and make your customers pockets buzz, if you got something exciting to tell them.
More and more businesses are discovering the benefits of having an App for their customers apart from the ability to present information about your business on rich HD screens,  provide turn by turn directions to your door, real-time special offers, loyalty schemes , and a host of bespoke features that will help you maintain and improve your customer service levels, not to mention drive sales.
But the real power in the pocket comes from what is known as "Push Notifications" these are the numbered badges and messages screens you see on your phone, telling you are late for an appointment, you've missed that bargain on eBay or someone you've avoided since school now wants to be your friend on Facebook ( why does that happen :-))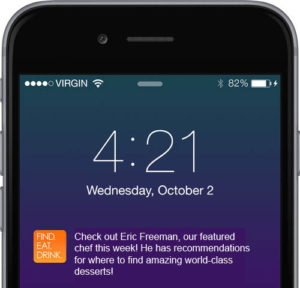 A lot of businesses don't realise these messages can work for them. They could be sending out these messages directly from their own app. If you have a spare table in your restaurant, a cancellation in your hotel, a special offer in your store, want to keep your client informed on the progress of a project you are working on, all this and so much more can be delivered with a simple "push".
One of our accommodation clients recently sold 8 rooms they were left with after a cancellation in 12 minutes, all from a Push Notification. No other media can do this, did I also mention Push Notifications are also FREE.
Think of an app for your business as a leaflet/ business  card that can not only deliver information but can reach out and tap your customer on the shoulder ( well the wrist if you have a smartwatch) and let them know all about you whenever you choose.
We can all benefit from a little "push" now and again.